In what way might a person define their self? Do they do so by their traits and characteristics? By the places they've been?  Might they establish their identity in the work they do, or perhaps, the recreations they seek? Surely, the complex individual makes an assessment of their menagerie of interests and exploits and develops who they are over time. One very important factor would be our unique tastes. The type of cigar we smoke is one way we may choose to express our tastes, and subsequently define an aspect of our personality.
Mark Twain was a legendary cigar smoker. He may have smoked as many as twenty-two cigars a day. He once said, "If I cannot smoke in heaven, then I shall not go." Smoking was evidently of the highest of priorities for him. Indeed, Twain's identity as a smoker was similarly legendary. When Twain paid a visit to a friend, the friend often had to take still lit cigars from his mouth after he'd fallen asleep to prevent his home from burning to the ground.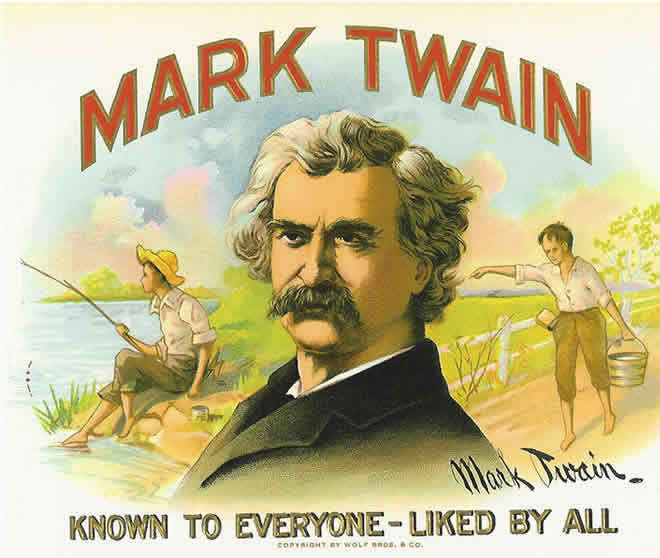 Twain loved his cigars and he loved individuality. Despite the insistence by his friends on "good cigars", he felt that there was no universal standard. In an essay titled Concerning Tobacco he said, "No one can tell me what is a good cigar–for me. I am the only judge. People who claim to know say that I smoke the worst cigars in the world." Truth be told, a good cigar was often a cheap cigar for Mark Twain. Isn't it possible that one might enjoy their cigar all the more by knowing that they saved some money in obtaining it?

Then again, for many smokers, further satisfaction is gained in being the social connoisseur. To be able to suggest a quality smoke to someone is obviously an admirable ability. To be knowledgeable is a good quality, and many enjoy the notoriety if being knowledgeable. For many others, being seen smoking a specific brand may help them prove their social status. They may display their wealth and their expensive tastes.

But in the end, are we not a nation of individuals? Do we not have the opportunity to discern our own tastes and identities? Twain's closing thought in the aforementioned essay was the following: "Each man's preference is the only standard for him, the only one which he can accept, the only one which can command him."

Is there a possibility that there is a universal standard? Is there a cigar that at least collectively we can say is a fine smoke? The answer is probably not. It's not an easy task to disagree with Mr. Twain, and in this case as in many others, he makes a fine point. Only you, the reader and the smoker, can know for sure. It seems, to me, that the best option is to take recommendations on good cigars, especially where that leads to the receiving of a free one, and to make our own decisions, form our own opinions, and enjoy what makes us, us.
The Wisdom of Mark Twain on Cigar Tastes
by
David Sabot